DAM is a chess game, simple to learn but difficult to master, Tue 10th May, 10am ET, 4pm CET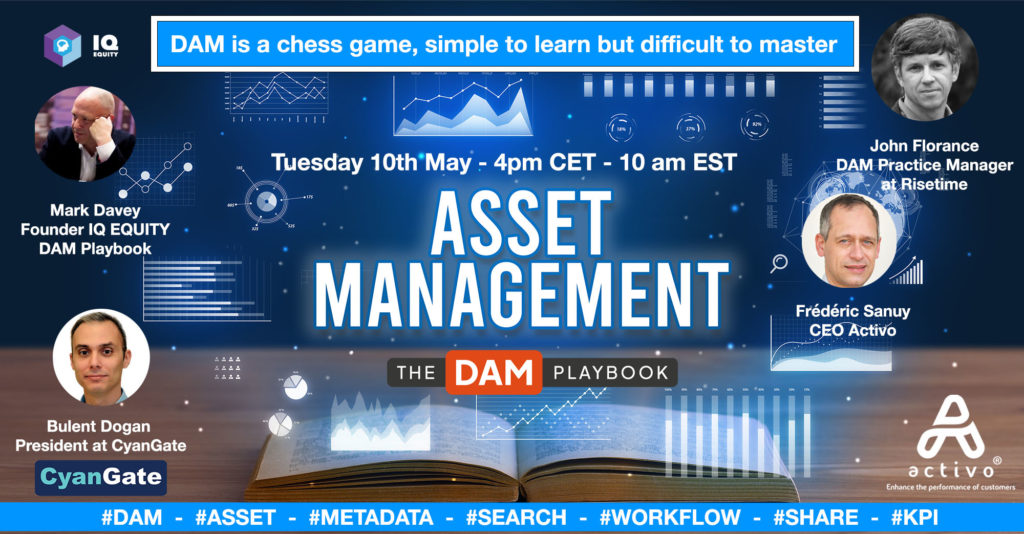 Activo are hosting a webinar, DAM is a chess game, simple to learn but difficult to master on Tuesday May 10th at 10am Eastern Time (4pm Central Europe).  The session will feature Mark Davey, Founder of IQ EQUITY and the DAM Play Book, John Florance DAM Practice Manager at Risetime, Bulent Dogan President at CyanGate and Frédéric SANUY CEO of Activo.  The panel plan to discuss what matters most for customers of DAM from the perspective of many different retail markets:
"During the last 2 years with the rise of e-commerce and rich digital content, the need of a DAM system has never been so important for all customers from various vertical markets. Who ever you are : brand, retailer, agency, cpg, pharma & packaging we have been hearing from many people across the globe struggling with DAM initiatives. Usually, it lacks management buy-in, strategy, resources, data modelling or vendor overpromising and underdelivering. It is time for some open conversations about the real issues and digital asset management advocates' problems. As they say, a problem shared is a problem halved." [Read More]
A full list of events is available on our DAM Events Calendar.  Entries can be posted free of charge by anyone with a Standard DAM News Subscriber Account.
Share this Article: