New DAM Events Calendar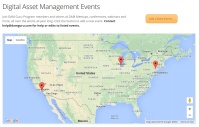 DAM Guru Program has launched a free DAM events calendar to offer the global community a one-stop portal to find events, meetups, expos and conferences for:
Digital asset management
Content management
Library and information sciences
Anyone can post a new event. All event submissions are moderated for suitability and accuracy before they're added to the calendar.
As a bonus for DAM Guru Program members, the program will promote DGP member participation in events for free. So, for example, though a given conference might be listed only once in the calendar, DAM Guru Program will repeatedly promote across its social channels any talks, presentations or panel discussions that involve members.
The calendar is available at: http://DAMguru.com/events
This post originally appeared on the DAM Guru Blog.
Share this Article: