Guru Voices: DGP Member Insights from the IEN Digital Asset (DAM) & Content Leadership Exchange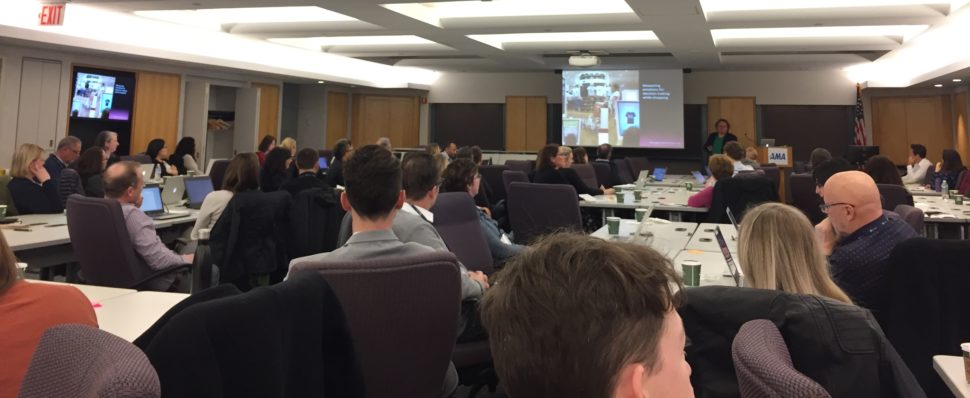 Change is happening whether we are ready for it or not. That was one of the major sentiments of The Digital Assets & Content Leadership Exchange presented by Insight Exchange Network in January 2018 in New York. (The keynote from Dieter Reichert, from Censhare deserves its own blog post!) Though this conference is a new player in the Digital Asset Management conference space, this gathering of DAM and Content professionals provided deep dive discussions on a wide range of DAM/CM-related topics, and tips on navigating change.
We have gathered a few of our DAM Gurus who attended and asked them to provide insights on the conference and how it made them think about "The State of DAM". We thank them for their feedback. Participating Gurus are:
"What topics are hot, garnering the most interest and discussion?"
"Metrics for DAM, rights management, the importance of DAM experts running DAM systems"

– Tracy Wolfe

"How do you do your DAM?" This conference was an excellent opportunity for DAM professionals to learn about how other organizations deploy their DAM.

– Margie Foster

"DAM is part of an ecosystem – data must flow from upstream systems and flow to downstream systems"

– Mindy Carner

"AI dominated the conversation at the conference. DAM professionals want to understand how artificial intelligence will affect the industry.  Will we be replaced by robots?  How will AI tagging change our workflows?  Can AI alleviate our tagging workflows?

– Jennifer Anna
What's been talked about in the hallways between panels?
Integrating systems, differences in digital strategies and maturity levels, how to acquire new skills, which new skills to acquire

– Tracy Wolfe

I mostly noticed how different our jobs are. Even though we are all considered DAM in some capacity, we all do different projects in our day-to-day. Some of us implement, others create workflows, others just focus on metadata and taxonomy, and others do everything.

– Erin McElrath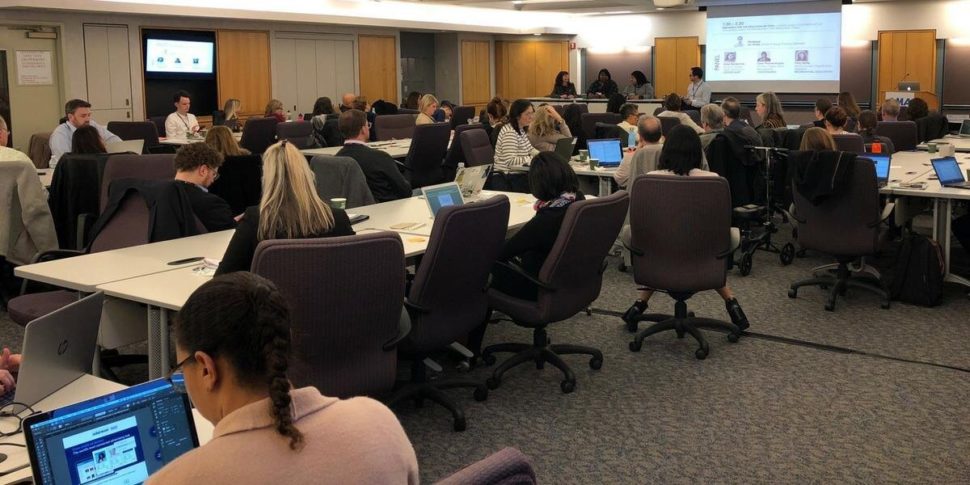 Where are you seeing the lines between technologies & solutions blurring, and what are your thoughts on that?  (For example: DAM & CM, DAM & PIM, DAM & AI?)
DAM should be solution agnostic in order to serve multiple needs and evolve with the changing platforms.

– Maria Shippee

I think that I see the lines between DAM and CM blurring the most.  I think that anything should be considered an "asset," not just traditional resources like images and videos or documents, but also pieces of content whether they are articles or chapters or sections or lessons or assessment questions.

– Tracy Wolfe

DAM & CM are the most common pairing but still not seamless. If any of these technologies blend, it'll be these two.  DAM & PIM — outside of vendor demos I haven't seen an instance that is a total solve.  DAM & AI — a lot of good work is underway, but still early days.  Definitely, an area to keep an eye on.

– Margie Foster

We are only as good as our tools.

– Erin McElrath

The biggest point here is just about getting the metadata into alignment. The solutions can blur into one another all they want, but there will never be a one-tool fit all solution, but there absolutely MUST be a single, strategic metadata plan to protect data quality by flowing product, marketing, and discovery data with the asset through its lifecycle.

– Mindy Carner

"At the conference, I didn't see many examples of system integrations except among a few large broadcast and publishing companies.  My impression is companies are still struggling to make sense of their stand-alone systems. During the panel discussion, I asked a panelist who is responsible for providing solutions to a variety of different clients about whether there is CMS-DAM integration. She noted it was rare.

– Jennifer Anna
Did the conference give you ideas on how DAM is evolving? Some say the traditional role of DAM dying, did the conference dive into this area at all, and what are your thoughts?
I would say that DAM is expanding scope, not dying.  I do think there is room for growth to incorporate aspects like the expansion of the definition of an asset, tools for automation, and also better reporting and metrics.

– Tracy Wolfe

I think the idea of a static DAM is giving way to the notion of a dynamic DAM. You should expect and plan for a DAM that can adapt to other evolving content delivery technologies.

– Margie Foster

I did get validation on my idea that DAM is evolving, but I'm noticing that DAM managers are hesitant to adapt.

– Erin McElrath

The conference offered a few panels on this topic, but I feel like there could have been a deeper dive on this topic.  Perhaps segmented the topic into different areas including employment and professional development opportunities, technology evolution, and information architecture.  Alternatively, it would have been helpful to have industry specialists discuss their observations about the industry.  All of the speakers were fantastic, a great group of capable, talented people, but I felt the conversations could've gone deeper.

– Jennifer Anna
What did you leave the conference thinking the next big thing in DAM will be?
While AI was a hot topic, the verdict was that it is not ready for the masses. Trending now are the new file formats, like the 360 imagery used for augmented reality. With the release of the new iPhone and the widespread use of Photoshop, these file types will easily be the next big thing.

– Maria Shippee

Honestly, I hope it's AI, especially to harvest pertinent data from other content systems within an organization.

– Margie Foster

The next big thing will be seeing content as a whole. we no longer provide a repository, we create workflows and adapt to the current business model of the company.

– Erin McElrath

System vendors will be forced to innovate to support major media companies, specifically sports organizations who create and must process terabytes of data in a single day. Systems right now aren't meeting their needs and this will inevitably lead to disruption of those vendors that currently support these groups. Systems need to be nimble and able to handle the quantity and speed of content processing.

– Mindy Carner

Linked data has potential for the DAM industry.

– Jennifer Anna
What surprised you the most from this conference?
DAM is being used in so many different industries, in some any unique ways, yet we all struggle with the same issues.

– Maria Shippee

How much I learned.  It was a very collaborative environment, a room full of expertise. I enjoyed Monday so much that I went back Wednesday.

– Tracy Wolfe

The majority in attendance were Digital Asset Managers, not vendors and that was FANTASTIC!

– Margie Foster

The small size of the conference, combined with the group table set up (not the big round tables that you might have to yell across, but small rectangle tables that allowed for more intimate conversation) made this conference a superior networking experience. People really got to know each other over the three days and it felt more personal than larger events.

– Mindy Carner
Look out for some more detailed blog posts on Digital Asset Management from these Gurus in the coming months. And we would love to hear from you too! If you attended The Digital Assets & Content Leadership Exchange, email us at help@damguru.com. We look forward to seeing more from Insight Exchange Network on Digital Asset and Content Management in the future.
This post originally appeared on the DAM Guru Blog.
Share this Article: