DAM Event: Webinar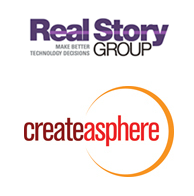 Real Story Group helps businesses make better technology decisions.
On Monday September 16, 2013 they will be offering a wonderful opportunity, in partnership with Createasphere, to increase your DAM knowledge with a webinar titled,
Digital Asset Management 101.
Real Story Group Senior Analyst Irina Guseva will lead the presentation.
If you are a Newbie and want to learn more about DAM,
this event may be for you.
More information and a signup form can be found here:
This post originally appeared on the DAM Guru Blog.
Share this Article: