Vendor Directory Update: 10 Core Accreditation Filter
We're pleased to announce that the DAM Vendor Directory has been updated with a new filter to search for vendors that have gained 10 Core Accreditation from The DAM Playbook, a specialised online vendor selection tool that provides a wealth of detailed and exclusive vendor information and analytics based on thousands of data points.
The 10 Core DAM Characteristics, as explained by its creators:
"10 Core DAM Characteristics accreditation is an industry standard, developed in 2014 by IQ Equity alongside a group of DAM professionals and thought leaders.  It assesses the core functionality necessary to carry out Digital Asset Management."  [Read More]
To search for 10 Core accredited vendors, simply head over to the directory, display the search filters and select 'Yes' in the corresponding section as shown below.  Over 100 additional filters can be selected and combined to provide results tailored to suit your specific DAM system requirements.

To apply the filter and view the currently accredited vendors you can use this custom link.
On vendor profile pages, those that have gained 10 Core accreditation are displayed with a link to their DAM Playbook entry, along with a link where you can learn more about the 10 Core process and the qualifying criteria.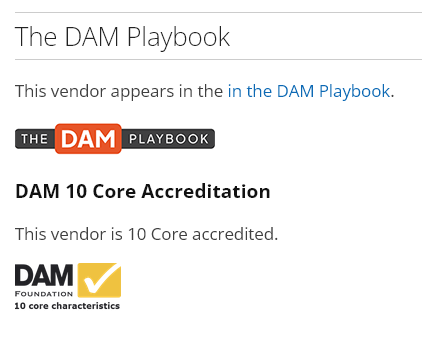 In order to claim authorship of an existing vendor profile, or to add a new one, vendor representatives must first register for a free DAM News subscriber account.  You can read more about the vendor directory here.
Share this Article: