GSoft
The DAM Playbook
This vendor does not appear in the in the DAM Playbook.
DAM 10 Core Accreditation
This vendor is not 10 Core accredited.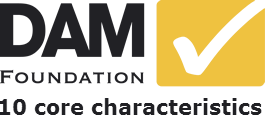 Vendor Details
Contact Name
Filipe Pena
Company Profile
GISP was created in 1990. Its founders were a group of entrepreneurs, starting its activity in the IT area, whose main purpose was aimed at the development and implementation of business management software for the media industry.

During its first years of activity, GISP has rendered services on an exclusivity basis to the Portuguese public television broadcaster – RTP.

Since 2003, it has expanded towards new media clients and markets, in order to face the market as a global provider of business management software for the media industry. As a result of this strategy, Gisp solutions have been successfully implemented on important Portuguese and Angolan television and radio broadcasters, such as RTP, SIC, Sport TV, TPA, TVC, TV Zimbo, Rádio Renascença and TSF.

By focusing on the media industry, GISP gained a detailed understanding of its clients' needs and the challenges they face in an increasingly complex and changing industry. Consequently, GISP solutions provide the framework, functionality and flexibility to meet their diverse needs.

GISP has restyled its corporate identity as part of a strategy for a better and more accurate communication policy, modernizing its visual image as a natural effect.

This changes were planned to fit with a new communication policy focused on the products and the own company identity. This way GSoft brand identity took the leading role and GISP corporate identity took its natural place in the backstage. The evolution undertaken in our communication strategy also substantially improved the perception of the global product hierarchy along with a coherent visual policy.

In the last 2 years, GSoft has increased the investment on new business areas, with particular attention to the media management systems and web content management systems.

GSoft future stands for new challenges and a clear spotlight on new businesses and markets.
Contact Telephone
+351217811900
Contact Email
geral@gsoft.tv
Company Website
http://www.gsoft.tv
Years Trading
23
Office Locations
Product Name
MediaVault
Latest Version Number
1.0.5
Date Of Last Release
30/08/2013
Clients & Customers
Partner Network
If the vendor operates through a sales channel they may use intermediaries who have regional focus or additional specialisms in a given vertical market.
Licensing
Licensing Model
This refers to the type of licence the DAM system software is supplied under. Proprietary means that the developer restricts access to the source code (the instructions used to generate the software). Open source means that the developer provides full access to the code so you can modify it yourself. Split model is hybrid and means they may offer both options with some restrictions removed (or added) depending on the model chosen. If split is selected, it is advisable to verify the differences with the vendor.
Hosting
Software Delivery Methods
Technology
Client
Client refers to the type of hardware or software device that can be used to access or control the DAM system.
Server Operating Systems supported
This only applies for installed or hybrid DAM systems and refers to what types of OS they can be run on. This question is less relevant for DAM systems where a third party will be hosting it for you.
Web Server
The type of web server software that the DAM system can operate with. Not all DAM systems use a web server and for pure SaaS products the question is irrelevant. If you either want SaaS or non-web DAM systems, do not choose an option.
Software Development Technologies Used
This means the programming language or development technology used to implement the DAM system. This question is more important for open source software or if you have IT policy restrictions that require you to use (or not use) some technologies. It may not be relevant if you require a hosted DAM and never intend to host the system in-house.
Database Technology
The Database that the DAM system uses. All DAM systems require some kind of storage for asset metadata and they are usually based on an existing technology - but that may not always be a conventional database. If the DAM will be hosted by someone else (e.g. SaaS/Cloud) this question may not be relevant.
JDBC
XML
SQL Server
Oracle
MySQL
Search Technologies
This refers to third party search components that the vendor uses to provide the text search features (and sometimes other related search functions).
Search
Search Features
This describes the search strategies that can be used to find assets. If you do not understand any of them, leave the options de-selected. Most DAM systems should support at least keyword search at a minimum.
Keyword
Folders
Filters
Faceted Search
Index/Search Text Content Of Documents
Some DAM systems can search the text content of document assets and that might be important for your DAM solution.
Metadata
Embedded metadata support (reading)
Embedded metadata refers to information stored within asset files which can be searched from the DAM system. There are different standards for this type of metadata. Some image cataloguing software like Adobe Lightroom will write this data to asset files and a device like a camera may capture details also such as GPRS coordinates where an photo was shot. XMP metadata is often used with other types of files such as InDesign or PDF. If you are unsure whether this applied to you, do not check any options.
Embedded metadata support (writing)
See the reading question above for more details on what embedded metadata is. This question refers to whether embedded metadata can be written back to files if edited within the DAM system.
Controlled Vocabularies
Controlled Vocabularies are predefined lists of search terms. They can be realised in many different ways but the common factor is the user picks from a restricted selection rather than enters a keyword. Most DAM systems will usually support both controlled vocabularies and keywords.
Asset Processing
Dedicated/Scalable Proxy or Derivative Asset Generation
Nearly all DAM systems will generate thumbnails and previews of media, including more dynamic types like video or audio. Some products use a separate server to do this which usually makes them more suitable for large scale asset ingestion and processing.
Asset Manipulation
Image Manipulation
Many DAM systems allow users to manipulate images by resizing, cropping etc. Choose any features which are important to your users.
Image re-sizing
Image cropping
Format conversion
Flip images
Rotate image
Batch manipulate groups of assets
Video Manipulation
Some DAM systems may allow video assets to be converted or modified. If that is a potential requirement for you, specify those features which are likely to be needed. EDL = Edit Decision List and refers to providing in/out points when editing video footage.
Format conversion
EDLs and editing features
Timeline metadata
Batch operations on multiple video assets
Integration
API
API means Application Programming Interface and allows third party software to control a DAM system. If you intend to integrate your DAM with another existing solution then you need to choose the API protocol that is compatible with that.
Authentication
Authentication Support
If you need to integrate with an existing corporate authentication service then this option will be important for you.
Multi-Lingual Options
Multilingual Application Interface Support
The interface means the controls to use the DAM system. This is different from the metadata support which is usually entered by end users when cataloguing assets.
Multilingual Metadata Support
See previous question. Most DAM systems with multi-lingual support will provide it for metadata.