Review – IEN (Insight Exchange Network) DAM Practitioners' Summit 2019
This feature article has been contributed by Digital Asset Management and Production Management consultant, Jeffrey Marino.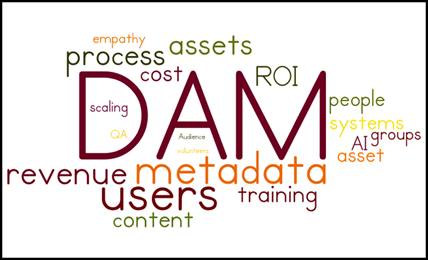 Insight Exchange Network hosted a sizeable audience of DAM professionals late last January at the Digital Asset Management Practitioners Summit in NYC. Attendees and presenters enjoyed a pre-conference mixer hosted by New York DAM Meetup at the classic midtown Rum House bar. The conference faced off the next morning, refereed by emcee, panelist and National Hockey League DAM expert Dan Piro.
Presentations focused on the challenges DAM practitioners confront in terms of technology, staffing, scaling, training, evangelizing, and getting ahead career-wise. Case studies highlighted how creative templates create workflow efficiencies and increase brand consistency, and explored the potential of using Artificial Intelligence (AI) for metadata and tagging. Panel discussions at times got heated, with passions flaring around usage, copyright and the unending complexities of the vendor selection process. Empathy, please! was a recurring theme at IEN 2019 – empathy for the end user, empathy for the customer, empathy for the all-important but all-too-underpaid tagging personnel, and more.
Day One kicked off with an Executive Roundtable discussion of challenges practitioners face. Top of the list for Margie Forster, DAM Librarian at Dell, was "DAMs are not static! A marketing DAM needs people to be able to scale." Scaling the technology is not the issue, concurred Uri Kogan, VP Product Marketing at Nuxeo (which also had a presence in the vendor showcase area), adding, "a technology-first perspective does not have sufficient empathy for the users." For Stacey Jurgensen at PBS, "responsiveness to complaints is mission critical," and keeps an open door via 'a kvetch channel' – which is valuable but challenging as well since, as Rebecca Schneider of Avenue CX points out, "expressions of love are not typical."
Regarding metadata and its challenges, Schneider advised, "don't underestimate the importance of a well thought-out metadata design including, for example, a required-fields strategy." The panelists wondered if the ability of AI to contribute meaningfully to metadata and tagging is rather overstated by its proponents. Dan Piro gave a sports example: AI generates useful metadata when there are clear correlations like game date and timecode, and does a decent job identifying players from markers like team uniforms; but It's not there yet with facial recognition. Audio-wise, on the other hand, Stacey Jurgensen remarked that automated speech-to-text has evolved and is considerably improved from what she described as 'audio haiku' – amusingly inaccurate automated transcription. The potential of AI is real, says Kogan, but "the specific utility is dependent upon learning from massive content."
Jessica Berlin, Director, Digital Asset Management at American Cancer Society presented the case study The Value of Customizable Marketing Solutions in DAM. She showed how the implementation of DAM and DAM processes have succeeded in bringing the organization out of the 'Dark Ages' of thousands of one-off requests. She presented a series of self-service 'Artwork Builder' design templates that serve her organization's creative workflows; they are incorporated into the DAM are have been readily adopted by users. Berlin acknowledges there is a time cost in crafting good templates – citing about 100 hours to create a set of 7 templates for one internal group. It's worth it, she says. Her team created 34 templates for a larger group and drastically reduced the impact of their job requests by over 90%: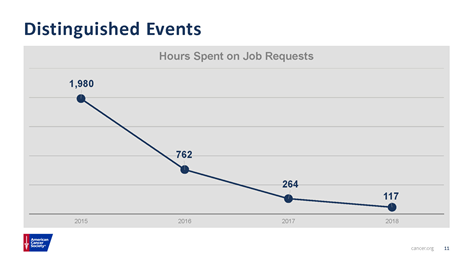 image by Jessica Berlin
Distinguished Events is an important group, generating 16% of the organization's revenue. Before Artwork Builder on the DAM, supporting this group consumed 30% of the marketing department's time; after Artwork Builder, supporting the group consumes only 3% of marketing time – an excellent case for DAM ROI!
Sally Hubbard, Metadata Architect at PBS, presented Developing a Comprehensive Metadata Strategy Across Integrated Asset Archives, starting with fundamental questions about metadata, such as:
Q: WHAT IS IT? (A: shared information about 'the thing')
Q: WHAT DOES IT DO? (A: links content in DAM and MAM)
Q: WHY IS IT SO IMPORTANT? (A: supports search, discovery and recommendation engines; and it persists)
 Hubbard describes archive stakeholders as residents of a metaphoric house:
Information Science – concerned with water quality
Information Technology – concerned with building the pipes the right way in the right place
Business Units – just want to be able to live in the house
Archivists – want to make sure the kids will be able to live there
Analysts – want to predict whether they (the kids) will want to
Just as things can get tense with roomies, so too with DAM implementation – not to mention that people get weird about the tool ("DAM itself is subject to fetishization and scapegoating"). Hubbard calls for openness in the face of 'solution collision' (when there are many overlapping/competing solutions to the same problem that may actually end up making it worse). And bottom line, she advises, be accepting that inevitably "you will spend a lot of time mapping."
 Joy Ardizzone from the NYC Economic Development Corporation led Elevating the Role of DAM Professionals Within the Organization and Beyond. The panel of experts was of one mind regarding the digital asset manager career – it's simply hard to get ahead and get promoted internally. DAM is often seen as a cost center where getting additional staff meets resistance. "FTE headcount is a nightmare," says Anne Graham from Turner Sports. Metadata entry – the lifeblood of a successful DAM – is a low-level terminal role often filled by contractors and temps. "And the notion of using volunteers – that must be put to bed!" said Jennifer Anna from World Wildlife Fund. When overworked digital asset managers rise to the occasion (as always), 'making do' with existing resources, it's a two-edged sword, says Dan Piro from NHL: "if the work is getting done, that's an argument against getting more headcount." His advice on getting ahead is to consider jumping ship, as any new environment is de facto a new opportunity. Apart from that, he advises, "try to evolve one's role; it's not enough just to do a good job." Suggestions from the panel include cross-training, obtaining certifications, getting to know the front-end, the back-end, other systems and their potential for integration, and additional departments and people that can benefit from the DAM – and learning from their institutional knowledge. Christine Zhu from Chobani put it succinctly: "form cross-departmental friendships; know that plugging into other systems requires work from others."
 The DAM Maturity Model (v2.0) was presented as a case study by Henrik de Gyor of Another DAM Podcast, on how to qualify expanding the DAM and the DAM team. The model is a self-assessment tool for any department, workgroup or organization to gauge the current state of their digital asset management operations. When used as a regular poll – annually at minimum, ideally every quarter – the DAM Maturity Model can show when the needle moves and where in the operation system and/or team growth needs to occur.
 "Benchmark usage and measure changes over time to justify headcount. Present cases for innovation, and what future maturity looks like," said Ken Madsen of MAD A Creative Production Agency in the next panel, Scaling Your Team as Your DAM Program Matures.  Stephen Hunking of Showtime Networks concurred that to senior management, "anyplace you can monetize, that really smells good." In the absence of that, he says, firmly drive adoption and expansion "with joyful relentlessness." And continues," I'm a firm believer in the roadshow. Get to know the other silos and build trust – and expect to own them."
I expected more on the career plight of the digital asset manager but instead, Rebecca Schneider's presentation Tagging and Empathy was a thought-provoking discussion of empathy, simply defined as 'walking in another shoes.' It challenges us to understand the critical importance of personal perception: assets can have different, even opposing meanings dependent on context, bias or even perception. Is this an image of a rabbit, or a duck?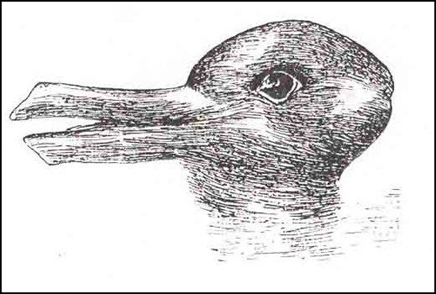 Source: Jastrow, J. (1899). The mind's eye. Popular Science Monthly, 54, 299-312.
Schneider's answer: "Proceed with caution." DAM's core capabilities of search and distribution put extraordinarily powerful methods of customization and targeting in the hands of marketers, so assets tagged with insufficient empathy are assets at risk: going awry, being tone deaf, off color or creepy.  Empathy proceeds from both common sense – treat others as you would they treat you – and an expectation of dialogue:
"Even when you are marketing to your entire audience or customer base, you are still simply speaking to a single human at any given time." -Ann Handley, Chief Content Officer
Day Two began at 8:30am with the presentation, Seeing the Forest — Keys to DAM Sustainability, from Carol Thomas-Knipes, Director, DAM & Enterprise Technology Operations at Logic Source, Inc. Suitable to the early hour (necessitated by the 1pm stop to the conference), the practice for assessing clients' DAM and advising DAM clients was pretty much wake-up-and-smell-the-coffee. "When my clients say, 'we have a DAM!' and I ask them 'well what are you using it for?' I usually find that it solves just one particular problem for one department and that's it." Succeeding with clients isn't so much about supporting their need for DAM itself or the valuable flexibility of DAM to solve specific problems for their users, as it is being able to engage with their strategic concerns. Empathetically, she focuses on people and their fundamental concern (What's-in-it-for-Me?) and stays in constant contact so that there's an ongoing conversation (she wants them to ask, What-do-you-have-for-Me-lately?) In general, thinking outside of the box is necessary to sustain DAM practice, not only for its tried and true benefits (time saved, processes simplified, controls put in place) but also to enable it to grow (connecting into other systems, like finance? ERP?). For the DAM practitioner, 'seeing the forest' is to put aside quotidian monetization anxieties and know the path towards a broader ROI – of efficiencies strategic to the organization.
And what could be more efficient than NOT getting sued? was a hot topic during the panel discussion Rights Management, Content Licensing, and Appropriate Use of Digital Assets. Bill Rosenblatt, President of Giant Steps Media Technology Strategies adamantly stated, "ROI must be for risk management OR revenue gen, NOT cost savings ever!" It is often cited that copyright and privacy infringement suits and their potential damages to the organization, financial and otherwise, far outweigh the cost of any DAM – and that organizations need its capabilities to avoid such damages via the appropriate restrictions and controls. In practice, says digital asset manager Keenan Whitmore, the first control is from attaching the actual rights document to each asset; the second is to proactively use or customize the DAM interface to signal (by turning it red, for example) any asset with a protected status – or anything other than an 'all-clear' status. Verifying the all-clear status of an existing asset's usage rights can be difficult, says Rosenblatt, and while it's theoretically possible to integrate rights management tools like Fadel, Rightsline, and Oracle, those tools present an extremely high cost of integration and adoption. Far simpler, says Elizabeth Keathley of Atlanta-Fulton Public Library System, is "work only with wholly-owned assets" where the copyright and model releases are written down, delivered, and in the organization's name. If an intermediary like an ad agency hands over assets licensed in their own name, your organization is insufficiently protected from liability; likewise, "your contracts with photographers must stipulate proper delivery of permissions and releases along with the assets." In practice, says Keathley, the assets simply cannot be used if you do not have the documentation; and without the documentation the agency or photographer should not get paid.
Mark Milstein, Founder and CEO of VRMETA presented a quick recap of the complexity of tagging time-based video media, in Metadata Made Easy with AI. He ran a real-time demo of AI-derived metadata for a sample video clip and compared the auto-tagging results from two artificial intelligence engines: 118 tags (!) generated using Amazon's Rekognition versus 0 (zero) tags generated by Columbia University's Vidrover. Milstein's demo supported the consensus of previous panels: AI is promising but has a long way to go. By definition, the promise of artificial intelligence is that it is a learning engine, but in practice today, as Milstein says, AI all too often displays "the perceptual accuracy of a drunken 6-year-old."
Closing out the conference, expert practitioners shared their experience and advice in the panel Vendor Selection, Management, and DAM Essentials. Moderator Ralph Windsor, Editor of DAM News and Director of DAM Guru, queued up a brisk discussion about assembling stakeholders, issuing RFPs, and establishing ROI. The cost of DAM is significant for any company, but getting the greenlight for implementation can depend on the size of the organization. At global ad agency Grey, said Alexander Karinsky, getting budget for their DAM was easy. "They said, here's $250K, just do it… That amortized in about 2 weeks since we outsource about $10MM a year on prepress alone." Different concepts of value hold true at smaller (and newer) companies. At Chobani, a company "just 10 years young," Mark DiNoia invited his C-Suite to the vendor demos to illustrate the value of DAM in reducing complexity in creative processes. After buy-in from the top, he partnered with IT and the project manager for implementation, even solving the unforeseen 'hey, whose budget is this coming from anyway?' by arranging to have the creative and the sales departments share costs.
Jamie David, Digital Asset Manager at Fidelity Investments described how detailed demo requirements can help winnow down the field: "We demanded a UNIQUE presentation from each vendor based on 5 user stories. And if a vendor was unable to live-demonstrate ALL the features we asked for, they were OUT." And for vendors that made the short list, each panelist agreed on the critical importance of getting hands-on experience with the platform. "Get a login and recreate your own workflow in all its complexity," said Alex Karinsky from Grey.
Alexandra Lederman from the New School used Reddit to gain user insights on vendors and platforms and found that to be useful. "Each of our schools has its own CMO," she says, "and we did qualitative interviews with all of them." Disappointingly the process broke down, says Lederman, when final selection of the DAM was made by a single individual, apart from the group. "I don't recommend you follow that example."
In summary, this year's IEN Practitioners' Summit was an intimate, intelligent conference of experts talking shop, speaking frankly about traditional concepts and taking chances on interesting topics in front of a reasonably sized audience of professionals (and DAM gurus). Kudos to Dan Piro for keeping everyone's attention, doing triple duty as emcee, moderator and panelist. The shorter duration of the Summit meant that the audience's attention didn't get a chance to flag as it so often does on the last afternoon of the last day (in this case there was none). My only gripe would be the early (8:30 am) start of Day Two, which inevitably resulted in many late arrivals, which is hard on the opening presenter.
With only a few vendors on the exhibit, this Summit was, as advertised, really about the practice of Digital Asset Management; with a nice bit of meeting people and networking thrown in for good measure. As one panelist (and DAM guru) commented afterwards:
"The focus on end users was really interesting and repeated a lot throughout the conference. Empathy for them, investing in them, listening to them, meeting their needs, speaking for them, etc. We're nothing without users and it was nice to hear so many folks talk about how they engage with their users and how hard they work towards rewarding them. Quotes like "walk the customer journey", "meet users where they are" and "listen to the naysayers" have all stayed with me". – Fred Robertson
Share this Article: