Mary McMahon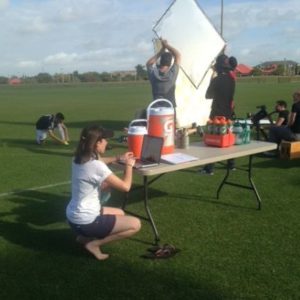 Mary McMahon discusses the value in being open to questioning existing processes and designs with regard to digital asset management. This approach frees you to bring a new perspective that can lead to breakthroughs in an organization's DAM system.
What companies/organizations have you worked for as a DAM professional? What was your role at each?
I've worked as a DAM professional at the University of Pittsburgh and DICK'S Sporting Goods. While pursuing my MLIS at Pitt, I worked in the marketing department leading the university's DAM vendor selection process. We began with a needs assessment, and by the end of the year-long project, had narrowed the field to a single vendor.
Currently, I am the Digital Asset Specialist at DICK'S Sporting Goods. I came on board after vendor selection, and implemented the Company's enterprise DAM system. Now that the system has been established, my team is responsible for continuously improving our DAM program and system, as well as cataloging the lifestyle photography used in customer-facing vehicles.
How do you describe digital asset management to others?
In my specific role, it's maintaining and utilizing relevant rights (administrative), keywords and product info (descriptive), and technical metadata for the photography and logos we use in order to increase productivity and reduce risk of using our assets in ways that make them liabilities.
Increasing productivity for my users can range from simply being able to search for assets based on a style number or name to developing consistent processes that follow the creation of photography through its ultimate use in a Sunday circular or digital experience. As part of these processes, we add in system integrations and automation. Digital asset management is more than a library of images used by creatives; it's a larger program that touches many areas of the Company.
How did you learn DAM? Any recommended sources?
I learned about DAM while studying and working at Pitt, and have continued to learn on the job, through conferences and webinars, and by reading. I keep a Google alert for Digital Asset Management, I am a member of various DAM and taxonomy groups on LinkedIn, and read a lot of the same sources that other gurus have noted in their posts. I'm especially indebted to Tracy Wolfe's ModLibrarian blog. She does a great job at compiling interesting articles and tidbits each week with the "5 Things Thursday" posts.
I take away different things from each type of learning material. When I'm on the job and with my vendor's resources (developers and support technicians as well as knowledge center material), I can dive into the intricacies that are unique to my particular DAM solution. Conversely, webinars, conferences, and industry articles keep me up to date on the larger DAM environment.
I love learning from photographers and their crews. I work with people who interact with a number of clients; understanding best practices from their experiences helps us build a better program and process from image capture to delivery in print or online.
What's the most important thing for someone new to DAM to understand about DAM?
The need to question assumptions is one of the most important things for someone new to digital asset management to understand. A great part about being new to a company or an industry is not having a mindset that if something's been done one way for a long time, that it's necessarily the right or only way. Use the lack of experience to your advantage by questioning processes and designs — you'll bring a new perspective that can lead to breakthroughs and improvement. When you take ownership of your naiveté, you free yourself to build a solid foundation based on best practices rather than the status quo. I know that tip is not specific to DAM, but it is helpful to remember.
If you weren't doing DAM as a career, what would you be doing?
I love what I'm doing now, and have made peace with being in front of a computer for hours a day, but if I had to switch careers tomorrow, I'd likely be in preservation and outreach at a rural historic cemetery — and then supplementing that endeavor with something that pays my student loans.
I'd get back outside, coordinating preservation projects and getting my hands dirty resetting headstones. I'd research and organize information — creating content — for use in outreach programs. I'd be back out in the community getting to know a patron or visitor base.
What is your ongoing greatest challenge with DAM?
Not everyone on my greater digital asset management team lives and breathes DAM every day like my immediate team does. Being on the front lines is great for learning from my users, and I want to be able to adapt quickly and make changes. My greatest challenge is balancing the desire to push forward and improve, while not overpromising on enhancement requests and bug fixes. It's one thing for me to work to find the solution; it's entirely another to commit to finding a solution that requires resources that aren't mine to allocate.
What is your vision for DAM? What will it look like in 5 years?
Digital asset management programs will be ingrained in the daily processes of the business, and that most users won't even realize they're using it. If I'm doing my job well, we're creating seamless integrations that support the entire content ecosystem.
What was your biggest mistake with regard to DAM?
Change management when you haven't questioned those assumptions enough. Onboarding new user groups to a new system and process is an exciting challenge, and if the users don't feel as though you've listened to them or taken their needs into account, you're going to have a lot of miserable people and poor user adoption.
So go on — ask questions, present suggestions, and challenge assumptions. Know that when you're implementing a new system, program, or process it's for a reason. Keep the user as your focus, and work with them to find good ways forward.
What was your biggest success with regard to DAM?
My biggest success goes along with my greatest challenge. Knowing that a DAM project didn't exist for a time period in one case, and that the user concerns I wanted to address were out of scope for the current project in another, I researched ways to solve the problem and implement solutions that limit the required resources from the greater team. I utilized our governance process to gain buy-in from the team, and kept people in the loop on testing and implementation of the enhancements.
I view this continual improvement as my biggest success because it's fostering ongoing relationships with my partners on the team as well as my user base. This success wouldn't be possible if I didn't proactively work to understand both my users and my system.
I'm fortunate to have great users who reach out to my immediate team for help with navigation and understanding usage rights, as well as partners throughout the Company who enable me to dive deep into the technical aspects of our system.
What more would you like to learn about DAM?
I'd love to learn more about the bits and bytes that make up digital assets. The more we repurpose our photography and add in video, the more the structure of the assets themselves is altered. By having a better understanding of how rich content is structured at a technical level, I will be able to build processes that balance the needs of different delivery channels.
I'm also always interested to hear from other DAM professionals working in a retail environment. At a conference earlier this year, I was able to sit down with another retailer that uses the same software that we do at DICK'S. We shared stories of our users' distinct needs and compared how we solved similar challenges in different ways. Sometimes just getting out of my regular environment, and conversing with others in the field is a great way to put whatever minutia is bogging me down at a given moment into perspective.
—–
Would you like to be a DAM Guru Program featured DAM professional? Signup now (for free) or contact your DAM Guru Program manager.
This interview originally appeared on DAM Guru on Mon, 14 Dec 2015. For more DAM News interviews, see the interviews index page.
Share this Article: