Maile Thiesen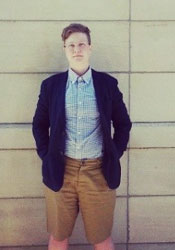 With the speed in which our modern digital asset management industry changes and shifts, Maile knows it's pretty much a requisite to continually be reading, learning and analyzing DAM forums, discussion groups and educational content currently available online.
What companies/organizations have you worked for as a DAM professional? What was your role at each?
UMass Amherst is my first job as a Digital Asset Manager, however DAM has been essential throughout my career in photography and the film industry. When I worked in San Francisco, I helped develop and implement taxonomies for a media company with forty video editors. The DAM system housed a large collection of stock music and videos that were instantly accessible to video editors who worked on extremely tight deadlines. We successfully launched the DAM system and the editors' creativity went through the roof once they had access to searchable collections of music, sound effects, stock videos, and after effects templates.
How do you describe digital asset management to others?
Dropbox on steroids.
How did you learn DAM? Any recommended sources?
DAM as a concept is an integral part of any photography or video editing workflow and is a necessary skill when doing any large scale project. I have a Bachelor of Fine Arts in Fine Art Photography from the Pacific Northwest College of Art. One of the first things I learned in all of my digital photography and video classes was the importance of organized files and standardized folder structures. I learned DAM (proper) on the job and I am largely self-taught. I spend many hours poring over online resources, forums, and discussion groups. Given the rapid and ongoing changes in the field, continual learning is pretty much requisite.
To start out, I read The DAM Book by Peter Krogh, DAM Survival Guide: Digital Asset Management Initiative Planning by David Diamond, and Digital Asset Management: Content Architectures, Project Management, and Creating Order Out of Media Chaos by Elizabeth Keathley. I also regularly visit controlledvocabulary.com/, digitalassetmanagementnews.org/, cmswire.com/digital-asset-management/, and read several white papers and blogs from around the industry. I read Wired magazine, keep up on all the latest Adobe products, and try to brainstorm and anticipate how new tools can improve our workflow. I'm a big fan of Lightroom, especially their new facial recognition feature.
What's the most important thing for someone new to DAM to understand about DAM?
Images don't tag themselves and consistency in tagging is key. People think they can willy-nilly start tagging images and that it will 'just work'. Having controlled vocabularies is vital to the success of any DAM.
If you weren't doing DAM as a career, what would you be doing?
I would be video editing or coding somewhere, learning more about Cinema 4D, After Effects and Ruby on Rails.
What is your ongoing greatest challenge with DAM?
Keeping the balance between how much metadata is too much metadata. How much metadata do we need to find the assets now? How much metadata do we need for historical context? How much metadata will people actually enter. It's an art.
What is your vision for DAM? What will it look like in 5 years?
In 5 years file sizes will be much smaller and images will be easy to access, from any device anywhere. There will be no one single truth of assets, but rather a myriad of cloud services will be interconnected and you will be able to catalogue images that are stored in any of those locations. So, services like Dropbox and Box, Google Drive, Facebook, and Instagram will all be able to be indexed in some cohesive way. There will be more automation and it will be more accurate. Things like facial recognition and geodata will be available, and the software will be lightening fast.
What was your biggest mistake with regard to DAM?
DAM and project management go hand in hand. Having well defined and documented project workflows and a project management system will help guide and leverage how the digital asset management system can be used to it's full potential. I wish I had pushed harder to have these processes documented before our DAM implementation.
What was your biggest success with regard to DAM?
My biggest success with regard to DAM is definitely the recent implementation of our digital asset management system for the University Relations department at the University of Massachusetts Amherst. When I was hired, I was tasked with researching, purchasing, and implementing a new system that would meet a wide variety of needs throughout the campus. The department had gone through two other DAMs, both of which had been abandoned. I modeled the custom metadata schema off of other great higher education schemes, namely those of Corey Chimko from Cornell and Kevin Powell from Brown. Now, at UMass Amherst, we have over 50,000 assets that have been created over 7 years by our extremely talented staff photographer, John Solem, and various freelancers from the Pioneer Valley.
What more would you like to learn about DAM?
I'd like to learn more about the back-end and get involved in some UX design for a DAM company. I'd love to try and create my own DAM from scratch, and teach myself how to use available APIs to integrate into our project management system.
This interview originally appeared on DAM Guru on Mon, 24 Aug 2015. For more DAM News interviews, see the interviews index page.
Share this Article: