Keith McKeon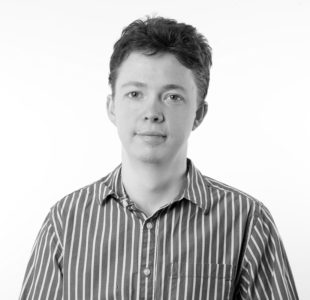 Keith McKeon is a Digital Asset Manager who understands that chasing features, without having a clear vision for the goal of a company's DAM system, will lead to frustration and failure.
What companies/organizations have you worked for as a DAM professional? What was your role at each?
I initially started as technical support for clients using our digital asset management system while employed by Hogarth Worldwide. After a year, I took over technical account responsibilities for a few clients. For some of these clients, a full rebuild of their site's configuration was necessary; others needed more guided training for their administrators. Strictly speaking, I have been a full-time Digital Asset Manager for Johnson and Johnson's DAM instance. This role was comprised of user-management, training, implementing a quality control process and a full rebuild of their taxonomy among other projects. I currently mentor 2 junior Digital Asset Managers for Hogarth Worldwide and represent the professional services team for Hogarth in the Americas which includes close partnership with out DAM product team and London professional services teams.
How did you learn DAM? Any recommended sources?
Most of what I know about digital asset management in the commercial, practical sense, was learned by rebuilding and repairing DAM implementations. However, I took a number of classes on image archives and collections while getting my Masters in Library and Information Science (MLIS). I have also had the opportunity to assist the technicians in building the Frick's image library and scan, and organize a personal library of slides and negatives from my family. There are lots of great places to learn about DAM. One of the best ones has been the Meetup NYC Digital Asset Managers. I've gained some insight and had many a conversation with some great panelists. I also recommend attending one of the Henry Stuart DAM conferences if your budget permits.
What's the most important thing for someone new to DAM to understand about DAM?
Understand that the best software for DAM will not solve the simplest implementation of DAM unless you know exactly what you need and have a committed team to bringing the use of the DAM into your organization's existing structure. I've seen too many instances where the client chased features and either oversold or did not clearly communicate to their internal teams what the DAM software was for. Lastly, make sure the software you choose has a stellar support team and by support, I mean beyond a simple front for answering technical support tickets. In your first year, it is worth paying a little more for at least %20 of a person from the vendor to ensure you are capitalizing on your investment and they hear where your pain points are. If the product isn't performing, don't rely on a support ticket alone to give you the final answer. It is highly possible an alternative method of working can solve your problem and any good support team will be grateful for constructive feedback.
What is your vision for DAM? What will it look like in 5 years?
This depends on the industry. For creative and marketing agencies I see it becoming nearly indistinguishable from other parts of operations. The proverbial "upload" button or, event that moves content from one stage to another will become more transparent in creative operations. Creative software can publish directly to a DAM and integrate with custom metadata requirements set by other tools in the workflow process. As DAM is better understood, it will become integrated as part of the larger content management strategy. Success will be measured by the ability to meet tighter deadlines and less time scrambling for information across other channels of communication. For other industries, like archives and libraries it'll remain much the same on the surface, but I expect deeper levels of metadata and more connections to other archives will develop and hopefully, unique collections will be easier to find. The so called 'invisible web' will become more visible by AI provided paywalls and standards continue to develop.
—–
Would you like to be a DAM Guru Program featured DAM professional? Signup now (for free) or contact your DAM Guru Program manager.
This interview originally appeared on DAM Guru on Mon, 08 Jan 2018. For more DAM News interviews, see the interviews index page.
Share this Article: