Deb Fanslow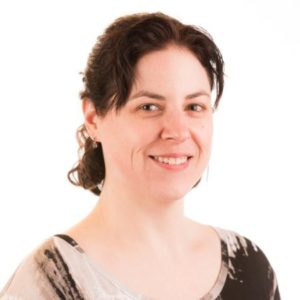 What companies/organizations have you worked for as a DAM professional? What was your role at each?
I've been working in DAM for over 6 years, with experience across the pharmaceutical, CPG, library, museum, and education industries. After earning my Master of Library Sciences degree, I began my career in DAM within academia, working as a graduate intern at the Rutgers University Center of Alcohol Studies to implement an enterprise document management system to manage the library's special collections. To gain more experience, I then interned with the Natural History Museum of Los Angeles County, cataloging their marketing materials to support the museum's rich holdings. At the same time, I volunteered at the Academy of Natural Sciences of Drexel University, digitizing rare historic library manuscripts and archival materials.
My first foray into DAM in the private sector was a position with Schawk, working as the Lead Digital Asset Coordinator for their client, Campbell Soup Company. In this role, I managed and administered Campbell's library of over 115,000 packaging/brand assets, oversaw creation, review, cataloging, and distribution of product renderings, and got my first taste of workflow design and optimization, as well as the challenges of upgrading an enterprise system and aligning stakeholders across a global company. I then moved into a challenging role at Campbell as Marketing Content Platforms Manager, coming onboard mid-project to lead a global team in launching Campbell's first enterprise DAM system and integrating it with their established workflow system.
Next came a role as Content Steward with Aquent Studios, working with a team of librarians at their client, Merck, to develop global modular content automation capabilities. It was here that I learned the complexities of modularizing master content for local reuse using an XML workflow. I was heavily involved in developing standards and processes, as well as training and documentation.
From this experience, I transitioned to a much broader role at Bristol-Myers Squibb (BMS) as Content Management Capability Lead, where I focused on developing a strategy to drive content reuse across the business, traditional digital asset management, and development of modular content capabilities. In this role, I led projects to analyze and update BMS's metadata schema, augment DAM reporting capabilities using data visualization, upgrade the DAM system, onboard a new business unit, identify what we called the upstream "content pipeline," and last but not least, customize their DAM system to support creation and management of dynamic modular content.
As a proponent of documentation, my next role was a foray into knowledge management, a close cousin to DAM. In this temporary position I worked as a consultant with the Educational Testing Service (ETS), where I led a project to develop an online knowledge base to support ETS's flagship item banking system—the hub of an extraordinarily complex ecosystem that stands as a stellar example of end-to-end modular content creation and delivery.
All of these experiences have led me to my current role as Migration Manager for ICP. I work with their client, Jazz Pharmaceuticals, to manage a library of References to support commercial and medical materials. After migrating their Reference library to a new platform, I am now responsible for ongoing content curation and governance. With the rollout of the new system, I have contributed to developing new metadata standards and processes, system configuration, training, and user support. I work among a team of talented DAM professionals, and benefit from their collective experience.
How did you learn DAM? Any recommended sources?
I actually started learning about DAM before I knew what it was. At the beginning of my 17-year stint working as a graphic designer in the publishing industry, I was creating digital assets and managing all of the content created during the process on servers. My first exposure to DAM was on the user side, where I used one of the first enterprise DAM systems (remember the days of Artesia?) to store and distribute book cover images. Coming into DAM with an understanding of the creative process and the user experience is invaluable.
Although not mandatory for a successful career, I absolutely recommend investing in a Library/Information Science degree that focuses on managing digital libraries. DAM today is heavily marketing-focused, but the principles of centralizing, structuring, managing, and distributing information for findability are much broader than that, and are evergreen across industries, content types, and every DAM use case I have ever heard. And the focus is always on the people using information systems to access and use information in all of its various forms.
Some of the best DAM education I've had came as a result of working as a School Library Media Specialist. It was in this role that I learned about the reference interview (what is the user's underlying need?), teaching (accommodating different learning styles, scaffolding, and continuous reinforcement), change management (personalization is key), user experience (how many interfaces do students need to learn to find the right article?), and most of all, the importance of patience!
Apart from work experience, I would of course recommend visiting the DAM Directory, a curated launching pad to a myriad of DAM resources. Attend DAM conferences, find a mentor, join professional associations, sign up for DAM Peeps, and read everything you can from consultants, analysts, vendors, and practicing DAM professionals—keeping in mind the source.
You can learn many of the core principles of digital asset management by managing your own digital content using a personal desktop DAM system designed for the professional photographer's workflow. Last but not least, for those new to DAM and the experienced alike, keep an eye on job postings to learn the skills that employers are looking for—then go out and acquire them!
What more would you like to learn about DAM?
I have a voracious appetite for learning, so my list is long! At the top currently is learning more about the larger ecosystem of DAM—strategy and orchestration of data and content that flows upstream and downstream throughout the digital supply chain.
I'd love to get a peek under the hood of a DAM system from a developer. Also on the list is learning more about system integration, Master Data/Metadata management, modular content, data aggregation, Media Asset Management (MAM), product management, analytics…there's always something more to learn!
This interview originally appeared on DAM Guru on Tue, 03 Dec 2019. For more DAM News interviews, see the interviews index page.
Share this Article: